Carpentry Terms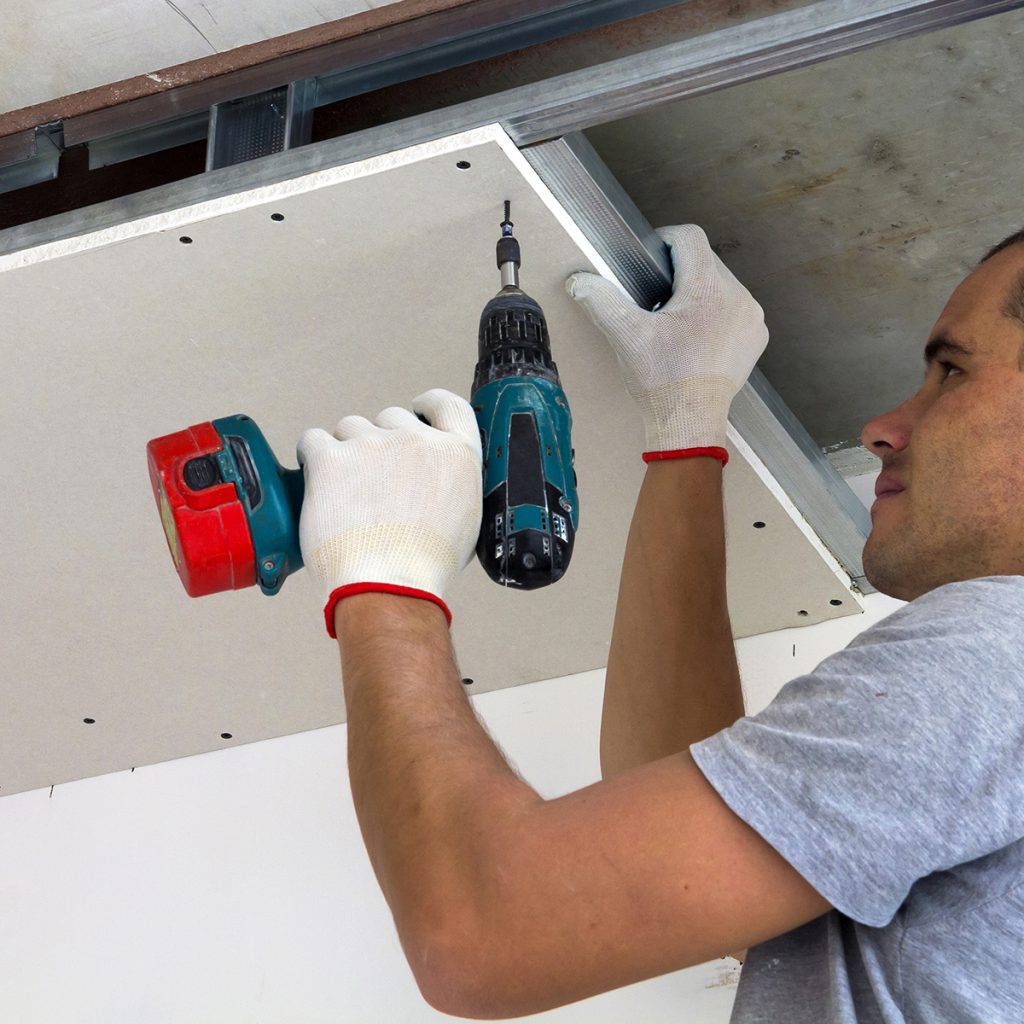 650 Grid Ceiling Framing is installed when a project calls for heavy-duty grid systems to support a drywall or gypsum ceiling. These ceilings are used in hospitals, hospitality settings, retail stores, lobbies, department stores, galleries, and residential high rises.
Acoustic Ceiling Tile (ACT) Framing is installed when a project calls for a ceiling that will absorb sound and reduce echo. These drop-down ceilings are ideal in places with many hard surfaces, like commercial buildings, including studios, offices, and schools, where sound bounces loudly from walls to ceilings to floors. Sound control isn't the only benefit an ACT ceiling offers; it can also increase energy efficiency and make wires, pipes, and ductwork more easily accessible.
Light Gauge Steel Stud Framing: Legacy Decorating's carpenters can create rooms where none existed before; they install light gauge steel stud framing and drywall too.
A Level 5 Finish is like icing on the cake when it comes to painted walls. Legacy Decorating can give you smooth and flawless walls, so glossy finishes and low angled light will not highlight bumps and depressions that are generally present.
Fire Protecting Wall Systems are fire resistant and act as a barrier against flames, smoke, and heat. Sandwiched within the panels is an insulating core of inorganic, non-combustible material. These systems prevent fire from spreading to adjacent rooms or buildings, guaranteeing a safe passage for occupants to evacuate the building and rescue teams to do their jobs. These systems still maintain a sufficient level of thermal insulation.
Sound Attenuation Insulation (SAB) are lightweight, flexible fiberglass insulation batts designed to deliver noise control in metal stud wall cavities of interior walls. Note: only professionals wearing proper protection should install fiberglass insulation. Inhalation of fiberglass dust can lodge minuscule airborne fiberglass particles deeply in the lungs; this can trigger asthmatic episodes and causing other serious illnesses.
Specialty Textures: Legacy Decorating creates Specialty Textures like popcorn, orange peel, stipple, and knockdown for their customers.
The popcorn wall texture is also referred to as acoustic texture due to its noise-dampening properties. It is also an easy way to hide any drywall imperfections, plus it never needs painting or touch-ups. The popcorn texture is difficult to remove, so you must be committed to this look.
The knockdown texture is a close cousin to the stipple texture. Drywall mud is stippled, then the points are flattened or "knocked down." This texture is used on both ceilings and walls and offers a warm, rustic feeling that looks good in waiting rooms, living rooms, dining rooms, and Mediterranean-inspired rustic kitchens. One benefit of this texture is you can paint it any color you like.
The orange peel wall texture has a simple, understated feeling that mimics the subtly pitted consistency of citrus fruits. It's ideal for offices, bedrooms, game rooms, or studies and can be painted any color you like.
Pronounced raised points make the stipple texture easy to recognize. The fact that it is usually on ceilings also helps. The sharp points of this texture make it difficult to paint. In the last few decades, this texture has toned down quite a bit. People now prefer a much flatter, subtler-looking surface instead of the heavy-looking stalactites type points.
Value Engineering (VE) Planning is about finding that sweet spot where low cost meets high value. It is a systematic process designed to focus and improve upon significant elements of complex or high-cost projects employing a multi-disciplined team of experts to develop recommendations to improve project performance, add value, lower costs and shorten project time.
Value Engineering (VE) Planners review all project elements from the design plans, estimated costs, and best value options to a project's complete life-cycle to determine the ideal solution as far as price is concerned. Products and procedures that cost more during construction may save a customer considerably down the line.
Painting Terms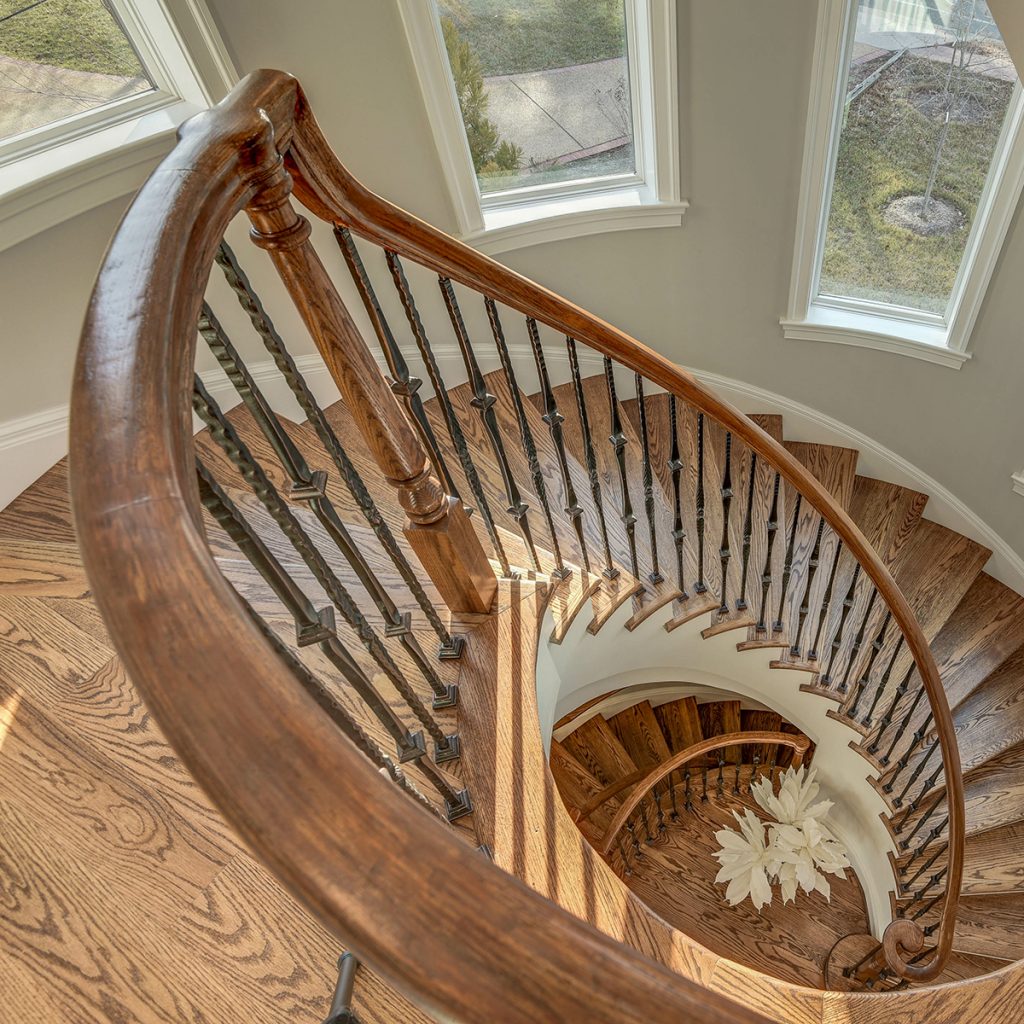 Antiquing Wood Substrates: Painters can make new wood look old to match existing wood in a room. There are various ways to achieve the right look, and the experts at Legacy Decorating will explain which process they will use when they visit your site.
Custom Color Matching and Consulting: Paint companies have been discontinuing paint colors forever. Some paint brands like Ralph Lauren Paint, Martha Stewart Paint, and Disney Paint are no longer available. If you must have Disney's Bibbidi Bobbidi Blue for a room, you will need someone who can match that color. Legacy Decorating's experts are so good they can even match colors in multi-colored faux finishes.
Custom Stain Work: Legacy Decorating offers custom stain work for wood surfaces. Staining can make inexpensive pine look like more expensive woods such as oak, maple, or even mahogany.
Concrete painting helps to mask the surface discoloration and signs of wear and tear, plus it extends the life of the concrete by preventing further damage. Coating a concrete surface with paint also makes for easier cleaning and maintenance.
Decorative Finishes: Legacy Decorating painters are well versed in decorative finishes from skip trowel textures to marbleizing, metallics to simple faux finishes
Marbling is a time-consuming process involving several colors of paint, brushes, sponges, and large feathers. It is a more cost-effective alternative to purchasing large slabs of marble to decorate your home. It's an upscale look without the upscale price.
Metallic finishes involve several layers of glazes and paint to get the perfect look. It's tricky to apply metallic-finish paints without streaks, but the professionals at Legacy Decorating do it regularly.
Faux finishes range from smooth to textured. They may have the rough, grainy look of sand or chalk or the ultra-smooth silk or satin finish. The kind of faux finish you choose for your walls adds a distinctive touch to your home. Ask about the range of faux finishes available from Legacy Decorating.
A skip trowel texture looks a lot like a knockdown texture, just a little more spaced out. It is spread by hand and can be applied in a light, medium, or even a heavy consistency, depending on the look you want. Like knockdown texture, it is excellent at hiding drywall imperfections.
Drywall Painting: Painting freshly finished drywall is different than painting a previously painted wall. There are three different absorbent textures, each with its own rate of absorption: taped and mudded seams, drywall facing paper, and the fuzzy surface of the overly sanded drywall paper. Legacy Decorating understands drywall and knows how to deal with the difference in absorption rates so that your finished wall is beautiful.
Electrostatic painting is the process of using a magnetic field to apply paint to metals. The item to be painted receives a negative charge from a negatively charged electrode similar to a battery cable. A revolving nozzle sprays on positively charged paint. The positive and negative charges attract the paint like a magnet to the metal. The positively charged paint, seeking grounded objects, is attracted statically to every part of the item. The paint literally "wraps" around the thing being painted, resulting in no overspray mess and very little, if any, paint lost or unused.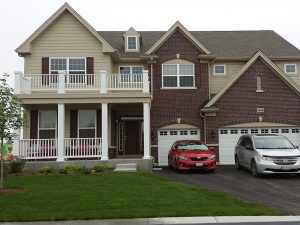 Exterior Painting: The exterior of your building is the first thing people see. A fresh coat of paint will always look better than peeling, faded, or worn paint in a dated color. Legacy Decorating's experts can help you choose a color that will age well and increases your property value.
Most exterior paint requires an ambient temperature of about 50 degrees; for best results, schedule your exterior painting for late June through early September.
Industrial Coatings: Legacy Decorating applies industrial coatings to prevent moisture, fire, and chemical damage. We use everything from direct to metal paints to keep rust at bay to vapor moisture barriers that resist diffusion of humidity through the wall, floor, ceiling, or roof assemblies of buildings to prevent condensation within an enclosed wall or other structural cavities.
Dry fall is a specialty paint/coating intended for spray application. The overspray from a dry fall coating dries very quickly to avoid overspray damage. It is generally used on ceilings and walls of commercial and industrial buildings.
Elastomeric coatings are applied like paint with a brush, roller, or sprayer and help waterproof exterior elements, such as roofs, concrete walls, and floors, masonry, or stucco. Elastomeric coatings are typically 5-10 times thicker than paint, with the ability to stretch 150-400%. This stretchiness allows the coating to move with the structure. Meaning they can shift with a wall or roof with climate changes and structure settling. Elastomeric coatings can last over ten years.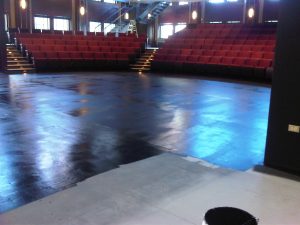 Epoxy coatings are commonly used for commercial and industrial flooring because they are low maintenance and provide a safe, clean work environment. Epoxy coatings are typically applied over concrete floors to provide a smooth, seamless surface that can last many years. Epoxy is installed in various thicknesses in various colors and may have a slip-resistant texture. You can even add safety lines for logistical purposes.
High-performance epoxy coatings extend the service life of concrete substrates because they resist abrasion impact and most harsh chemicals. They protect against high temperatures and thermal shock and can withstand heavy loads like vehicle traffic.
Industrial Enamels air-dry to a hard, usually glossy, finish. They resist corrosion, abrasions, chipping, and flaking. They coat surfaces that are subject to heavy wear or variations in temperature, whether outside or inside. Recommended industrial environmental uses include appropriately prepared steel, concrete, wood, plaster, primed aluminum, and galvanized steel.
Intumescent coatings are a passive fire resistance measure. Intumescents expand significantly, some more than 100-times the original thickness, when exposed to high temperatures. As the product expands, it becomes much less dense, making it an insulator that keeps high temperatures away from structural members or protected openings.
Urethane coatings on metals are thin films with a high gloss finish with exceptional weathering performance characteristics. This coating is used in virtually all industrial markets to provide a smooth, durable finish that has superior resistance to corrosion, abrasion, and chemical exposure.
Interior Painting: We provide a quick, clean, quality paint job for jobs large and small. Whether you need one room painted or an entire office building updated, Interior Painting is where Legacy Decorating shines.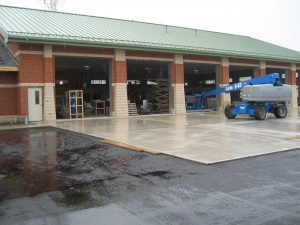 Lift Equipment Painting: Sometimes, things need to be painted beyond an extension ladder's reach or are challenging to get to because of landscaping. We can only safely paint up to 30 feet with a fully extended extension ladder, but we still may be trampling on plants. Legacy Decorating can safely reach heights of 140 feet using a scissor lift. We can avoid damaging the shrubbery by using a boom lift.

Media Blasting: Using high-pressure and the proper abrasive, Media Blasting can be used for many reasons, from removing a layer of paint to deodorizing a countertop to eliminating fire damage.
Media Blasting can produce both a cleaning and finishing action for your surfaces. The professionals at Legacy Decorating understand the advantages and disadvantages of each abrasive type (media) for every job they encounter.
Media Type
Description Best/Use
Grit Size Range
Surface Profile
Crushed glass grit
Aggressive grit,
best used for surface profiling and
removal of coatings and surface contamination
Coarse to extra fine
Medium-high etch
Glass beads
Lead-free, soda lime-type glass,
containing no free silica
best used to produce a smooth and bright finish
Coarse to superfine
No etch, satin finish
Plastic Abrasive
Soft media,
best used for coatings and paint,
ideal for automotive and aerospace applications
Very coarse
No etch, stripping
Steel Shot
Carbon steel
best for polishing and smoothing surfaces
Medium to ultra-fine
No etch
Steel Grit
Carbon steel
best for aggressive cleaning and fast stripping
Super coarse to medium
High etch
Corn Cob
Organic, soft media
best used on soft surfaces like wood
for non-damaging cleaning and stripping
Extra Coarse to Extra Fine
None
Walnut Shell
Organic, durable grit
best used for mildly aggressive
stripping without damage
Extra Coarse to Extra Fine
Low etch
Complete chart available from https://www.grainger.com/know-how/industry/metalworking/kh-blast-media-chart
---
Moisture and Vapor Barriers are essentially the same thing. They are building materials designed to prevent water from getting past the barrier. No barrier is capable of stopping all moisture from passing through. Vapor barriers come in a wide range of materials and applications. Legacy Decorating uses specifically-design vapor barrier paints and primers on bricks to provide a versatile vapor barrier.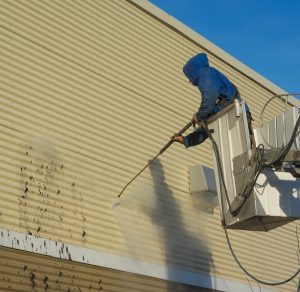 Power washing uses pressurized water to remove loose paint, mold, algae, dirt, dust, grime, and even chewing gum from surfaces. Heating the water delivers an even better clean. Some things are so dirty they may need a chemical boost, but not all cleaning solutions are the same. Understanding the difference between cleaners can mean the difference between cleaning or destroying what you are washing.
The professionals at Legacy Decorating are familiar with which chemicals to use for different jobs and know what can and cannot handle the pressure. They also understand that power washing is quite dangerous. Warm water and chemicals come out of the end of the wand at up to 2,000 pounds of force, and spraying it at someone can cause serious injury or death; even without a direct spray pressure that high can send chips of concrete and stone toward someone with the force of a bullet.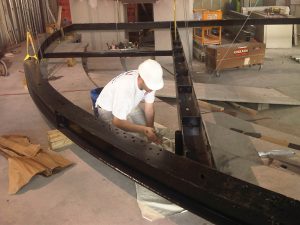 Scarifying Metal Surfaces: Paints and industrial coatings do not stick well to dirty, rusty, or very slick surfaces. Dirty, rusty surfaces must be cleaned, and slippery surfaces need a "tooth." Tooth describes the feeling of the surface; the more tooth it has, the rougher it feels.
Scarifiers, also called surface planers or milling machines, prepare metal surfaces for painting or industrial coating application. Scarifying removes rust or built-up debris on a metallic surface by physically scraping or otherwise applying force to the metal's surface. The use of a scarifier is considered to be surface normalization.
Specialty Textures — see Specialty Textures in Carpentry Terms
Wallpapering a wall involves more than just paper and paste. You can choose from a variety of wallpaper colors, weaves, patterns, styles, and materials. Vinyl is excellent for areas with a lot of moisture, such as kitchens and bathrooms, but non-woven papers and fabrics would be better in dry areas like bedrooms and hallways. A Legacy Decorating consultant can help you find the perfect design for your project.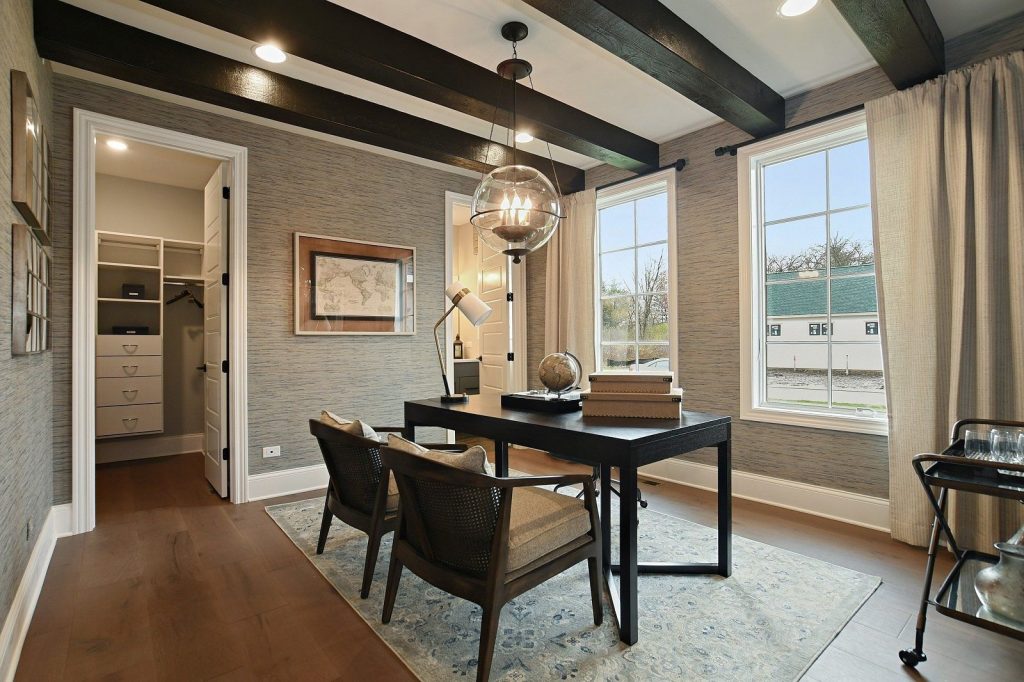 Our wallpaper hangers create the smoothest, cleanest surface possible as a standard part of the prep process. Once the walls are prepared, installation begins. Pattern matching is one of the most frustrating parts of hanging wallpaper for amateurs, but the professionals at Legacy Decorating have an eye for this critical detail.